Imagine having your own TV channel, broadcasting 24/7 with the content that you have programmed. Fully cloud-based, absolutely secured and very easy to use. Yourown.tv is delivered in a Software-as-a-Service model, meaning that you only pay a fixed fee per month and you have nothing further to worry about, except for building your audience for your own TV channel.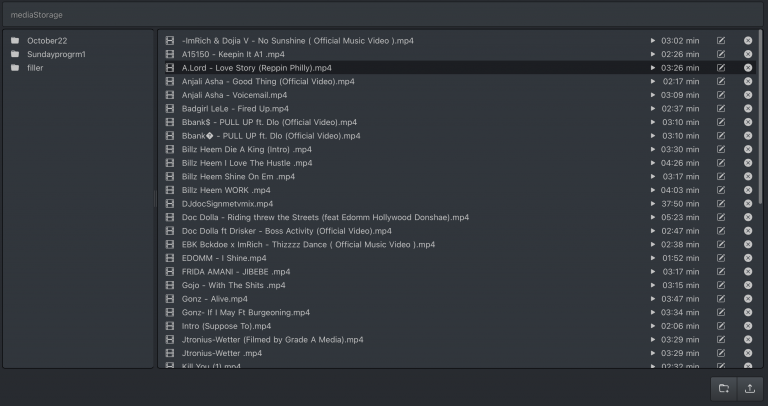 Upload your video content using your web browser. Video resolution, bitrate, aspect ratio etc. are automatically converted in real-time to the output specifications of your stream. No worrying about having the right format or codec, yourown.tv takes care of it for you!
Organise your videos into folders for easy content management.
Program your channel up to 90 days ahead
Create your daily schedule by simply dragging and dropping the desired video onto your schedule. The scheduler will automatically calculate the starting time and the playtime of the video.
Content that is already scheduled can be moved around, also by using drag-and-drop. 
Save your playlist when you are done and that's it! You can program your channel up to 90 days into the future. Do you want to have multiple days with the same broadcasting schedule? Simply copy & paste!
Add
commercials
your logo
to your channel
You can easily add your channel logo anywhere on the screen. It will be placed as an overlay on top of your scheduled video content. You can also mark uploaded videos as commercials. The channel logo will be fade out before the commercial starts and fade back in again after the regular content continues.
Publish your channel
on cable TV
LIVE on YouTube
on satellite
in your Roku channel
online
in your app
on your website
LIVE on Facebook
Yourown.tv includes one stream destination. This means you can direct the stream to your social media page or channel, a CDN for worldwide distribution over the internet or even an ingestion point for a cable-TV or satellite operator!
If you require multiple or different stream destinations please contact us!
Go LIVE on your channel anytime!
If you have breaking news to bring to your channel viewers, or if you are planning a LIVE feed from a studio or location, you can simply use the break-in feature to sart broadcasting live on your channel.
Check out our CYMTV Production product for a cloud-based, fully featured set of (live) production tools for camera persons, editor and directors!
Click here for our free video tutorials to learn all about how to use yourown.tv, so that you are ready-to-go when you place your order.
Help with required licenses and permits
For distribution within Europe and the UK, linear TV stations require a distribution license in the different countries.
Cybermedia Television facilitates content providers in clearing what licenses are required and in the licensing process.