In July 2022, CYMTV delivered the entire end-to-end software and streaming solution to the 2022 World Police & Fire Games, held in Rotterdam, the Netherlands. The event hosted over 5,500 athletes from over 70 countries, that competed in 63 different disciplines.
It was the first time that this event was held in the Netherlands. Originally planned for 2021, the global pandemic forced the organisation to postpone to the next year.
Volunteers were asked to download and install the CYMTV Camera App. User accounts were setup for each of them, so that all they needed to do is log in to the app and press the "Go Live" button. No prior experience or technical knowledge was needed.
The camera operators filmed both in the venue as well as on location in downtown Rotterdam and elsewhere, including at a restricted Dutch air-force base for the K9 units triathlon.
Students from the InHolland school were asked to be directors for the different events, and worked remotely at a special media office set up in the AHOY venue in Rotterdam.
The directors received the incoming streams directly on their screens and edited and directed the videos live.
They communicated with the camera operators, who were on locations all throughout the greater Rotterdam area, using a 'push-to-talk' voice messaging system (a "walky-talky").
CYMTV offered on-site training to the directors in the video directing software.
For the event, a total of 25 camera accounts were set up, as well as directors – to facilitate a maximum of five simultaneous live streams.
During the event, CYMTV also delivered several remote directors to assist in the live streaming.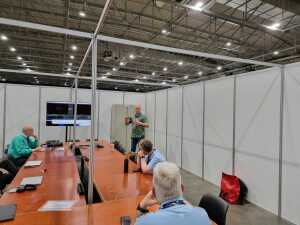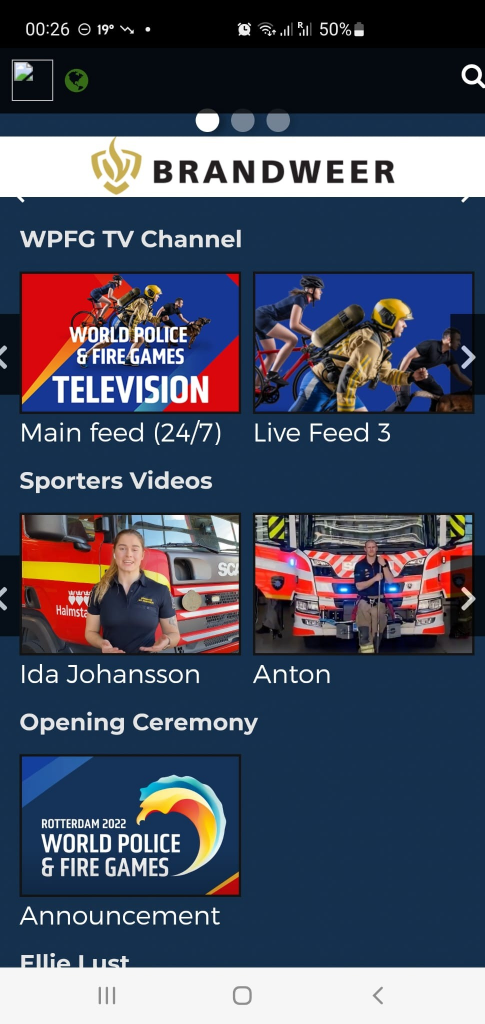 For playback, a Netflix-style App and web page were provided (using the FlixFlax product) to allow for viewers to watch the live streams. These were totally branded for the World Police and Fire Games 2022, in compliance with their brand identity.
After each broadcast, the recorded videos were also placed in the app as on-demand videos. This way, the athletes but also their family, friends and colleagues back home were able to follow their performances live but also afterwards.
The app also offered broadcasts and videos from the opening and closing ceremonies, as well as various promotional video content.
Integrated by default is StreamUnlimited, the Virtual CDN Add-On which saved massively on bandwidth during the live streams.
Using CYMTV's platform it was also possible for the organisation to publish one or multiple live streams in the social media platforms such as facebook, Twitter and Instagram.
CYMTV's 24/7 scheduling product Yourown.tv was used to create a continuous TV channel that showed "yesterday's highlights" in a constant broadcast.
In addition, selected live broadcasts were shown in this channel as well. The channel was playable in the app, but was also played on the digital signage screens in the main venue.