Cover your (LIVE) event
Whether you want to cover a concert, a convention, sports events or any other type of event, you can use CYMTV Production to work with multiple camera's, b-roll, commercials, interviews, studio feeds and more. You get the most modern software technology without making any investments. Just book the dates and times and we have you covered!
You can have your own staff work as director (the person operating the remote computer, who switches between the incoming video signals) or hire someone from our pool of available directors. Also, you can have anyone with a Smartphone as cameraman or -women, without any prior experience.
Work from anywhere in the world
It doesn't matter where the event that you wish to cover takes place, or where your director is. The cloud-based director server can be accessed from anywhere in the world, and the cameras connect using Wi-Fi, 3G/4G/5G using any network.
You can do truly cloud-based (LIVE) productions wherever and whenever!
Use smartphones as cameras
Most modern smartphones come with very advanced camera's built-in, that do not have to fear for comparison to (semi)professional videocameras.
The CYMTV Camera App uses this sophisticated hardware in an optimal way.
Ease-of-use
The CYMTV Camera App makes it easy for anyone to become a camera(wo)man. All the user has to do is login with a username and password, which is given by the director. After that, the App automatically downloads all settings from the cloud back-end and is instantly good-to-go!
The App's user interface only has three buttons; Camera on/off, Toggle front/back camera and Go live!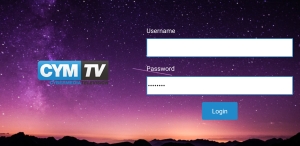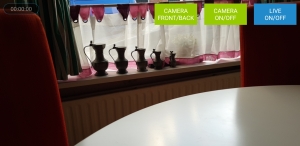 Remote directing
The director receives all camera feeds directly on his virtual workspace, LIVE and in real-time with little to no latency.
To instruct the camera operators, the director has access to push-to-talk buttons for each individual camera operator, as well as a talk-to-all button. The cameramen receive the spoken messages directly in their bluetooth earpiece, but the messages are also automatically converted into text and displayed on top of their smartphone display – so nothing can be missed!
Direct your productions LIVE from the metaverse!
For the ultimate directing experience, the director can use a VR headset and install the CYMTV Remote VR App, to perform the directing in the metaverse. Now, the director will have a huge workspace to map all incoming feeds, scenes and other windows. This options comes with no additional charge.
Technical overview
Please see below for a schematic overview of how the CYMTV Production system works.
Video tutorials
CYMTV offers a large number of video tutorials that will show you how to operate the CYMTV Production tools.
Pricing and ordering
Check out the CYMTV webshop for the prices per hour and the discounts. Your first hour is on us, so you can complete your personal setup and do a check on all connections with your crew.
When you order, you just simply enter the start and end date and time of your event, and the number of camera's you require. Our system will then automatically set everything up and send you all the login information, both for the cloud backend as well as for all of the individual camera's.
Hire a director!
If you are in need of one or more directors for your event, you can also check out our pool of available and experienced directors. You can book them directly with your order of the CYMTV Production tools or contact them first to discuss your event production. You will find the overview of directors on our website soon.